Celebrating the music of three good friends who found common cause back in 1975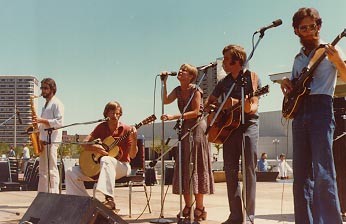 Ken Ainsworth - Nina Brant - Philip Kaufmann
Night Whale - A Contemporary Acoustic and Progressive Folk Music Group
Night Whale first performed together in 1975 at a benefit concert for hunger relief in Pullman, Washington. The following spring, following the break-up of Nina's country-rock band (Ash Breeze), the
Night Whale
Group was born.
Night Whale
toured Northwest lounges and night clubs for the next two years, developing an unique style that led to the recording of the first album, "31-Foot Ketch". Unfortunately, plans to release 31 Foot Ketch were scrapped when Ken moved away to take a teaching job. The group was back together in the summer of 1978 for the recording of Nina's solo album,
Dream Flight
. Several successful concerts accompanied the release of the album, and Phil and Nina again hit the road to play full-time. First with the
Kaufmann-Helton Trio
, then as
Interplay
, they performed up and down the west coast. Ken appeared with them frequently enough to keep
Night Whale
remembered. Then in 1981, as Phil and Nina settled in Corvallis, Oregon,
Night Whale
was reborn in concert at the Old Worlde Centre. For the next six years the group performed regularly at coffee-houses, bars, concerts and festivals, and released two albums of live recordings:
Night Whale: 10 Year Anniversary
and
Traditions
. At the same time, the musicians were growing in other directions. Nina immersed herself in her piano arrangements. Nina and Phil began experimenting with jazz standards. Phil continued his study of classic guitar. Ken continued writing new songs and began performing with
The Rondos
. Finally, in 1996,
Night Whale
decided to head for the studio once again. The intent was to catalogue our twenty years of music as a keepsake for our families, but producer Martin Race encouraged us ... (actually he leaned on us pretty hard) ... to produce a commercial album, and as a result, we released the compact disk
Soundings
in December of 1997. The energy and enthusiasm generated in the studio even led the group to return to live performance a short time, despite the fact that we lived 300 miles apart. So that's Night Whale.
Night Whale Productions
is a business entity we started to, well, take care of Night Whale's business. And this is a tribute site to the memories and music of the Night Whale Group. But more than that, it will soon be a portal to our more recent projects. Nina has released a number of outstanding albums exploring her eclectic musical interests. And Ken will soon release his sixth solo album, The Sins of a Sailor. Come back soon for another visit as we intend to update and add to our content very soon.
It's here!: A new album from singer/songwriter Ken Ainsworth dropped on December 16, and will soon be available at your favorite on-line retailer. You can listen to a preview at
https://kenainsworth.hearnow.com/
and as the album arrives at retailers, links for purchase will be added.
The Sins of a Sailor
contains 13 original songs, two of which were previously recorded by the Night Whale Group. It will be available at Amazon, Google Play, Apple Music, iTunes, Spotify and a host of other on-line retailers. For those dinosaurs (like us) out there, we've also arranged for a limited run of CDs. Because of Covid restrictions, there will be no live release concert, but we're working on some sort of YouTube thing. Stay in touch!